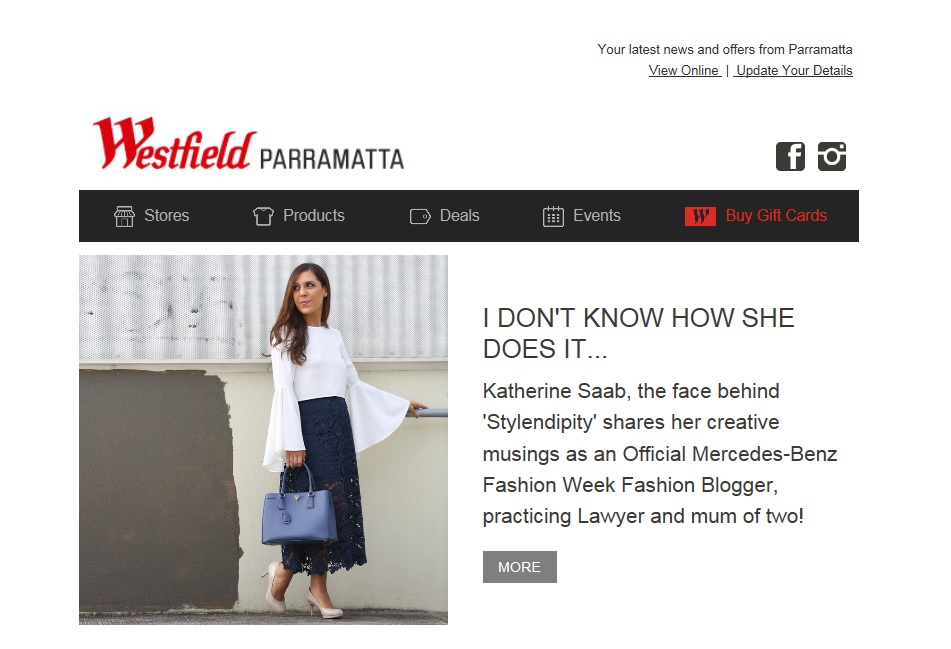 When I was asked to be apart of Westfield's "Own Your Story: Be Inspired" campaign,  I was honoured. Honoured that of all the mantra's that Westfield was running, "Be Inspired" was selected for me.
I've never considered myself as "inspiring". I don't give motivational speeches. I haven't forged an authentic path. And I certainly haven't built an empire. I make school lunches every day, keep a clean house, go to work and do what most other people do on a daily basis.
My clothes are a mere forerunner for what I do. Is being a mum a look? Is being a lawyer a look? I don't know. I just know that fashion seeps into every aspect of my life and no matter what I'm doing, it resonates in such a big way that I always have to look the part.
Here are some looks from Westfield Parramatta that I hope to inspire and empower you with this season.
"As a mother, lawyer and blogger, I've always got somewhere to be – whether it's court, a child's birthday party or Fashion Week. Therefore my outfit choices are all about practicality disguised as fashion.
Many people ask me how I juggle it all and still keep my finger on the fashion pulse? 
I guess, on some subconscious level, I find being multi-dimensional exciting and hopeful that at any one time, any one part of me is providing inspiration to someone.
In terms of style, this season I'm summoned by the modern 70s women (with a genuine thread of comfort) – delicately contrasting fabrics, neck ties, a-line midi-skirts, bell-sleeves, white sneakers and an audacious flash of skin.
And Westfield Parramatta has just the ticket to bolster my wardrobe with winter's 70s pastiche"
Photography: Jessica Abraham Photography